What Is IGET Hot Disposable Vape?
IGET Hot is a high-performance disposable vape device that guarantees a smooth and gratifying vaping experience. Designed with convenience in mind, its compact dimensions of 28*28*145 mm and lightweight net weight of 59g make it effortlessly portable for on-the-go vapers.
Each Hot 5500 puffs device comes pre-filled with 12ml of premium e-liquid, boasting a 1.4ohm coil that delivers an unrivalled pure flavour, offering up to an impressive 5500 puffs per device. Powered by a robust 1600mAh battery, this device ensures extended usage time for your vaping pleasure.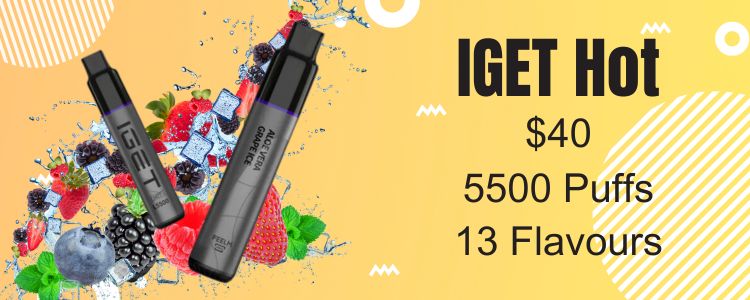 IGET Hot Intro And Specs
The Hot Vape boasts a brand new look, featuring a mouthpiece made of food-grade premium plastic. Not only does this material ensure the highest safety standards, but it also provides a smooth and comfortably cool touch, enhancing your vaping experience. Underneath the mouthpiece, you'll find a premium aluminium body that adds a touch of elegance and style to the device.
What sets IGET Hot apart from its predecessors is the upgraded internal structure. The dedicated team at IGET has put their expertise to work and crafted a brand new vape pen that offers exceptional performance. From the moment you take your first puff, you'll notice the difference in vapor production and flavour delivery.
At IGET Legend Vape Shop, we strive to bring you the best vaping experience possible. The IGET Hot embodies our commitment to innovation, quality, and style. Join us as we explore the outstanding features of this remarkable device and unlock a new level of satisfaction in your vaping journey.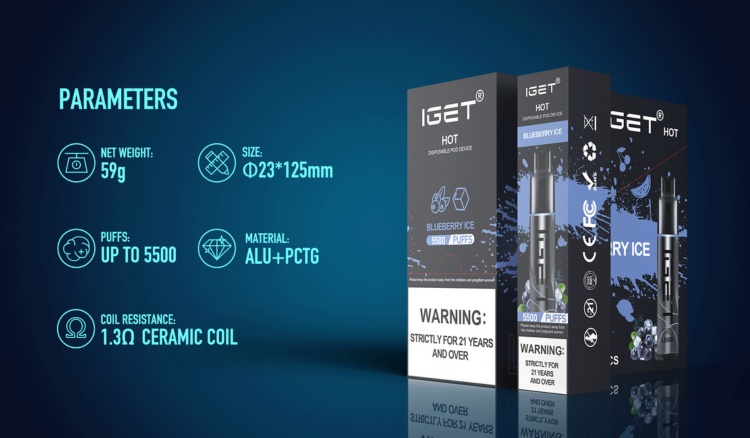 Specifications
Size: 28*28*145 mm
Net Weight: 59g
Coil Resistance: 1.4ohm
Puffs: Up to To 5500 Puffs
E-liquid: 12ml
IGET Hot Vape Appearance And Design
The IGET Hot is a stylish pen-shaped vape device that bears a resemblance to the renowned IGET Legend. While the Hot vape shares a similar overall design, it features a rounded and smooth bottom, in contrast to the square and sharp-edged bottom of the Legend vape.
The mouthpiece of the Hot device resembles that of the Legend vape, but the body of the Hot vape is entirely distinct. Unlike the IGET Legend, which boasts a premium matte plastic construction, the body of the Hot Vape is crafted from high-quality aluminium alloy, exuding an air of sophistication and luxury.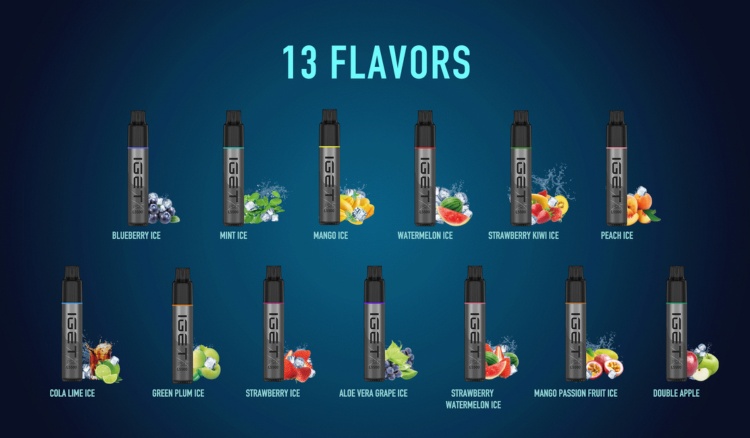 Getting Started – A New Revolutionary Disposable Vape
Is it truly impressive? The answer is a resounding yes, especially when compared to the highly popular IGET Legend. It becomes evident that the IGET Hot is a vape pen that closely resembles the IGET Legend, as it is an upgraded version specifically designed to succeed its predecessor.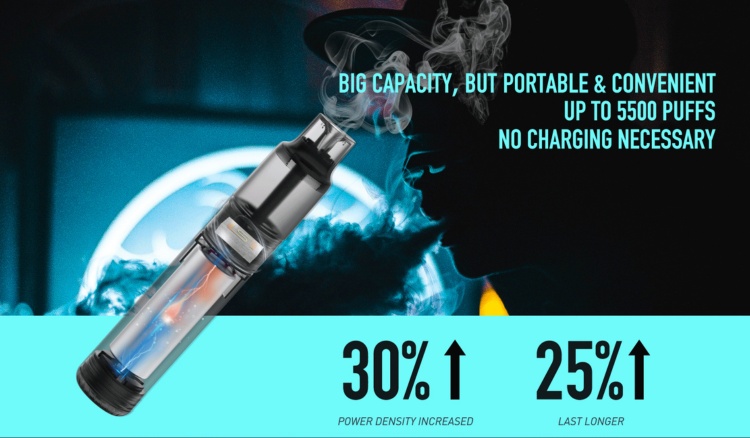 Both the Hot vape and the Legend vape offer an ample 12ml of e-liquid, but the Hot disposable vape outshines the Legend by delivering an astounding 5500 puffs compared to the Legend's 4000 puffs. However, being the latest addition to the IGET lineup, the IGET Hot 5500 puffs currently offer a narrower selection of flavours with only 13 options, which can be considered a drawback when compared to the Legend's impressive range of 24 flavours. Nonetheless, the IGET team holds great expectations for the Hot, and we anticipate that it will quickly become a sought-after choice among vaping enthusiasts throughout Australia.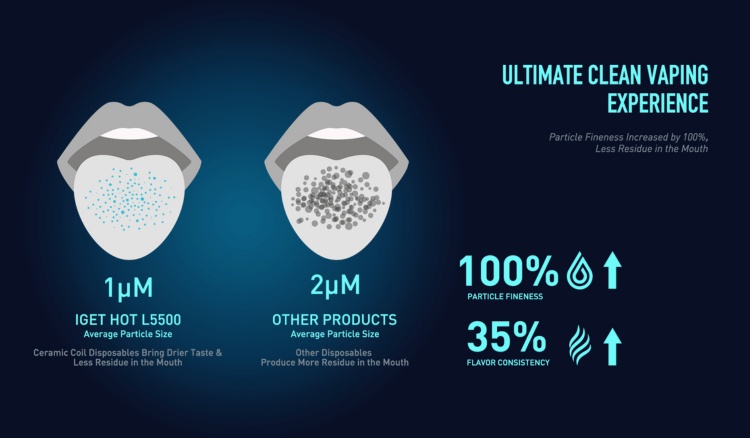 IGET Hot 5500 Puffs Performance
The remarkable performance of the IGET Hot vape is truly noteworthy, especially when compared to its counterpart, the IGET Legend, despite having the same e-liquid capacity. The significant factor that sets Hot Vape apart lies in its revolutionary coils. This vape device marks a pioneering breakthrough for the IGET team, as they introduce the use of ceramic coils. This state-of-the-art atomization technology ensures optimal vaporization of every single drop of e-liquid. This cutting-edge feature enhances the overall vaping experience, delivering unparalleled satisfaction to users.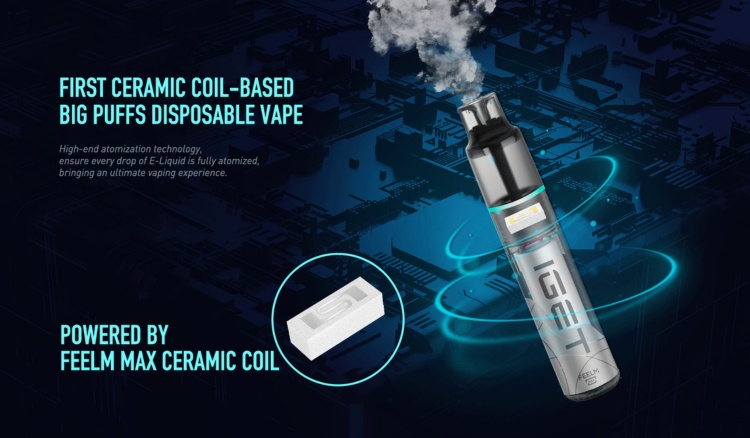 Additionally, as a disposable vape, the IGET Hot boasts a significantly improved battery performance compared to other disposable vapes. With a battery capacity of 1600mAh, the IGET Hot can last until the E-liquid is fully depleted, providing a consistent and high-quality flavour experience. Combining this with ceramic coils elevates the vaping experience to an unprecedented level. This is the fundamental reason why the IGET Hot can maintain a high-level flavour profile throughout its usage.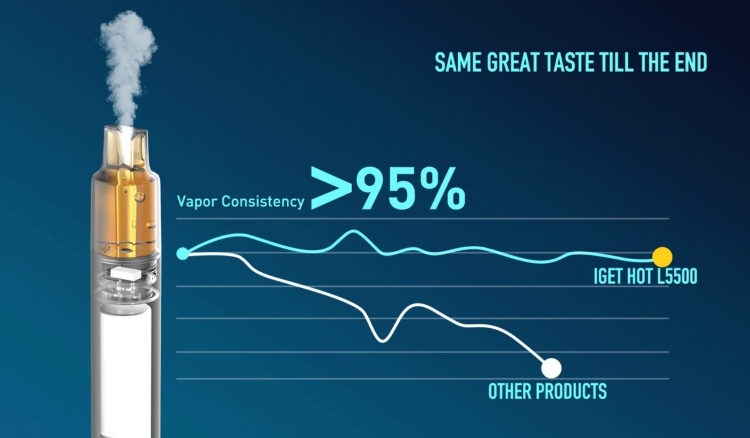 Pros / Cons
First ceramic coil-based
High-end atomization technology
Long lasting flavours
Sub-transparent tank design
Large capacity E-liquid
Up to 5500 puffs
Powerful battery life
Nice MTL draw
High-quality aluminium body
Fewer flavours
Non-rechargeable
Verdict: The Impressive IGET Hot – Elevating Your Vaping Experience
The IGET Hot is a game-changer in the vaping industry, gaining popularity among Australian vapers for its exceptional features and performance. Its sleek and compact design, along with its lightweight construction, makes it perfect for vapers on the go. With innovative ceramic coils, every puff delivers rich and satisfying flavours. The impressive 1600mAh battery ensures uninterrupted vaping until the last drop of e-liquid. With 13 flavours to choose from, the IGET Hot caters to diverse taste preferences. Experience the future of disposable vaping with the IGET Hot and enjoy unparalleled flavour and satisfaction.
FAQs About IGET Hot Disposable Vape
How many puffs are in IGET Hot vape?
The IGET Hot vape device is a premium offering that comes pre-filled with 12ml of e-liquid. Each device is designed to provide an impressive equivalent of 5500 puffs, offering a long-lasting vaping experience.
Does It have nicotine?
Yes, IGET Hot contains 5%(50mg/ml).
How long does an IGET Vape Hot last?
The Hot vape is the most popular and longest-lasting vape device in Australia. With 5500 puffs, it offers extended usage for vapers. Actual lifespan varies based on individual habits. For example, at 100 puffs/day, it lasts 55 days. At 200 puffs/day, it lasts 27-28 days. Similarly, at 300 puffs/day, it lasts 18-19 days. Heavy vapers at 500 puffs/day can enjoy it for 11 days. Personal usage patterns may affect performance. Experience the satisfaction of IGET Vape Hot, the ultimate choice for long-lasting vaping.
How to use it?
Begin by removing the silicone cap from the mouthpiece of the IGET Vape Hot.
Gently place the device in your mouth, ensuring a comfortable fit.
Inhale slowly and steadily to draw the flavorful vapor.
Where can I buy IGET Hot near me?
At IGET Legend vape shop, we offer only genuine IGET Hot devices, ensuring the highest quality vaping experience. Enjoy prompt delivery and free shipping on orders over $100. Our dedicated customer service team is available to assist you.
---
Related articles
👉IGET B5000 Review: All The Details You Definitely Can't Afford To Miss
👉IGET Legend Review: Best Flavours In 2023
👉IGET Legend Sydney Vape Shop: 5 Popular IGET Vapes Available
👉IGET Legends FAQs And Solutions In 2023