Introducing the groundbreaking IGET B5000, the latest addition to the prestigious IGET Vape 2023 lineup. This exceptional rechargeable vape device takes the renowned IGET Bar II concept to new heights, revolutionizing your vaping experience. Say farewell to wasteful battery usage and immerse yourself in the realm of long-lasting performance.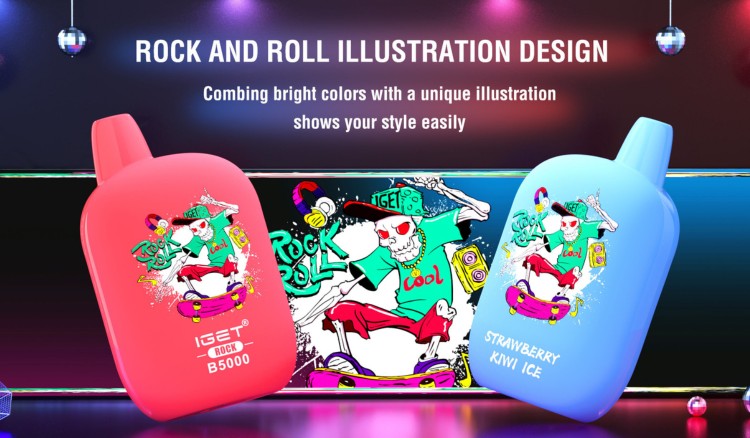 IGET B5000 intro and specs
At IGET Legend Vape Shop, we are thrilled to unravel the extraordinary features and advantages of the cutting-edge IGET B5000 in this exclusive blog post. Notably, this marks a significant milestone for IGET as they introduce their very first rechargeable e-cigarette, showcasing their commitment to innovation and customer satisfaction. With a premium-grade built-in battery and a mouthpiece crafted from top-quality plastic, the IGET B5000 surpasses expectations by delivering an impressive 5000 puffs.
Choose from an exquisite range of pristine colours, as the sleek and frosted design of the device emanates style and sophistication, without compromising on practicality. Embrace the opportunity to enjoy your vaping moments whenever and wherever you desire. With the IGET B5000, you can stand out from the crowd of conventional vapes, thanks to its rechargeable battery and distinctive aesthetics.
Specifications
Puffs: 5000
E-liquid: 10ml E-juice
Battery: 500mAh & Type-c Rechargeable
Nicotine: 5%(50mg/ml)
Weight: 49g
Build quality and appearance
Introducing the IGET B5000: Elevate Your Vaping Experience with Style and Convenience
IGET B5000 showcases an elegant oval shape, distinguishing itself from the rectangular structure of the IGET Bar. Weighing a mere 49g, its lightweight construction combined with a frosted finish ensures a secure and comfortable grip, providing an effortless vaping experience.
Equipped with a convenient type-c charging port and a strategically placed air inlet at the bottom, the IGET B5000 is designed with your convenience in mind. When the battery runs low, a flashing indicator at the bottom serves as a gentle reminder to recharge, allowing you to stay in control of your vaping sessions.
With a tantalizing selection of 13 flavours to choose from, each colour variation corresponds to a unique flavour profile.
Getting started
The B5000 is a user-friendly disposable vape that is particularly well-suited for beginners. However, it's important to be aware of some potential issues.
When it comes to usage, simply open the package and take a gentle inhale to start enjoying the B5000. However, selecting the right flavour is key to having a satisfying experience with this e-cigarette from the very beginning.
At IGET Vape, we prioritize MTL (mouth-to-lung) vaping, and the B5000 delivers a strong yet smooth hit that won't leave you coughing. Its beginner-friendly design ensures a more comfortable throat hit, while the flavours are known for their long-lasting enjoyment.
We believe that every vaping experience should be enjoyable and hassle-free, and the B5000 is designed to meet those expectations. Get ready to embark on your vaping journey with confidence and delight in the flavorful and smooth performance of the IGET B5000.
B5000 Performance
The B5000 introduces a unique coil design that deviates from IGET's previous products. Drawing inspiration from other disposable e-cigarette brands, the B5000 incorporates a mesh coil. This innovative coil technology enables more efficient heating of the e-liquid, resulting in a stronger and more flavorful vaping experience.
With just 10ml of e-juice, the B5000 can deliver an impressive 5000 puffs, surpassing the performance of the IGET Bar, which provides 3500 puffs with its 12ml e-liquid capacity. However, it's important to note that the B5000's high flavour output may require occasional recharging to maintain optimal flavour levels. Nevertheless, you can continue using it until the e-liquid is depleted.
The coil performance of the B5000 sets it apart from other IGET vapes. The 1.05-ohm coil generates larger clouds and delivers a smoother flavour and throat hit. This makes it suitable for a wide range of users and minimizes the likelihood of any issues arising.
With its innovative coil technology and superior performance, the B5000 offers an enhanced vaping experience that is sure to satisfy both beginners and seasoned vapers alike.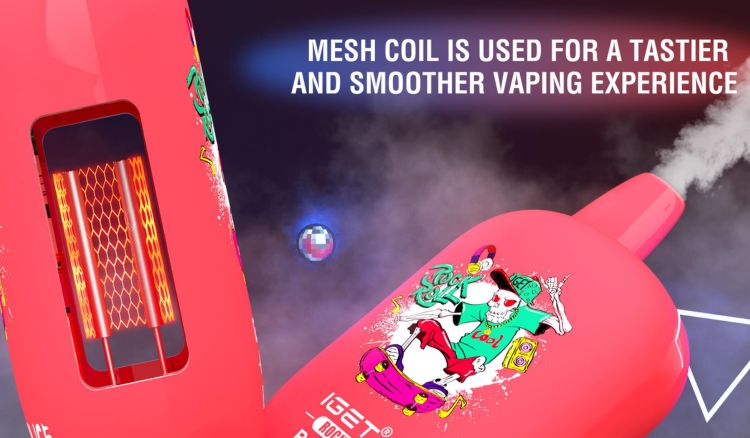 IGET B5000 Battery life and charging
The IGET B5000 stands out with its exceptional battery life compared to other IGET vapes. Its rechargeable feature allows for repeated charging, ensuring a consistent high flavour level until the e-liquid is fully depleted. However, it's important to note that the need to carry the charging cable with you when using the B5000 can be a bit cumbersome.
Charging the device is a simple process. Just plug the type-C charging cable into your vape and connect it to a power supply. Typically, a 30-minute to 1-hour charge will provide you with 2-3 hours of usage, allowing for convenient and extended vaping sessions.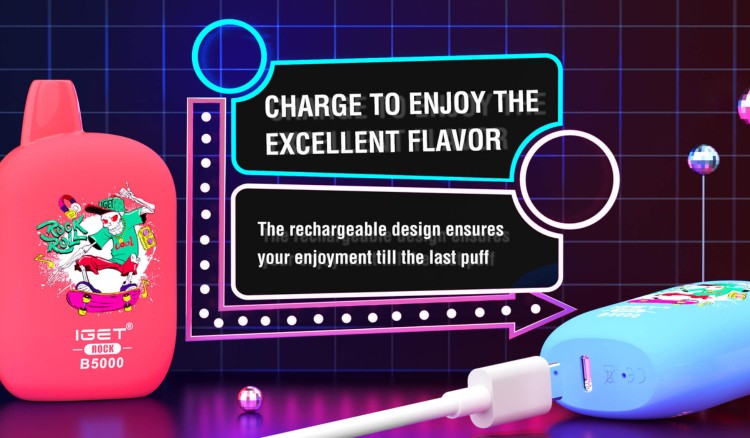 Pros / Cons
Lightweight and compact
More vapor
Long lasting flavour
Rechargeable battery
Great coil life – Mesh coil
Smaller size
Easy to carry
It cannot be filled with E-liquid
Less flavour
Verdict
Overall, the IGET B5000 proves to be a reliable and enjoyable choice for both beginners and experienced vapers. Its unique features, including the mesh coil and rechargeable battery, set it apart from other disposable e-cigarettes on the market. If you're looking for a high-quality, long-lasting, and flavorful vaping experience, the IGET B5000 is definitely worth a try.
FAQs About IGET B5000 Vape
How many puffs are in IGET B5000 disposable vape?
5000 Puffs and it can last around 7 to 10 days when vaped.
What are the ingredients of IGET B5000?
IGET B5000 vape contains Nicotine, Vegetable Glycerin, Propylene Glycol, Glycerol, Flavor, and Benzoic Acid.
How to use IGET B5000?
With draw-activation technology, all you need to do is take a puff to start vaping. Just unpack your vape and enjoy.
How much nicotine is in IGET B5000?
It contains 5% (50mg/ml) nicotine.
How to recharge IGET B5000 disposable vape?
There is a charging port at the bottom of the IGET B5000. Find a suitable Type C data cable and connect it to a power supply to charge.
---
Related articles
👉IGET Legend Sydney Vape Shop: 5 Popular IGET Vapes Available
👉IGET Legends FAQs And Solutions In 2023
👉IGET Legend Review: Best Flavours In 2023