In the Australia of disposable vapes, two popular options are the IGET Legend and the IGET Bar. Both offer a convenient and easy-to-use vaping experience, but which one is the better choice in 2023? In this comparison, we will take a closer look at the features and specifications of each device to help you decide which one is the right fit for you.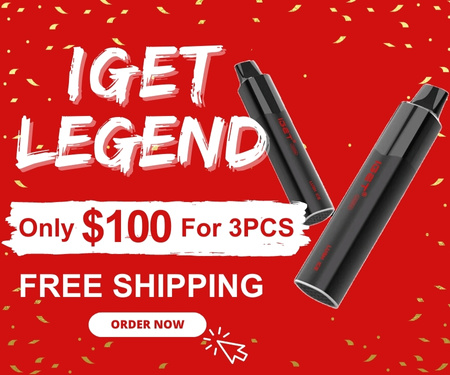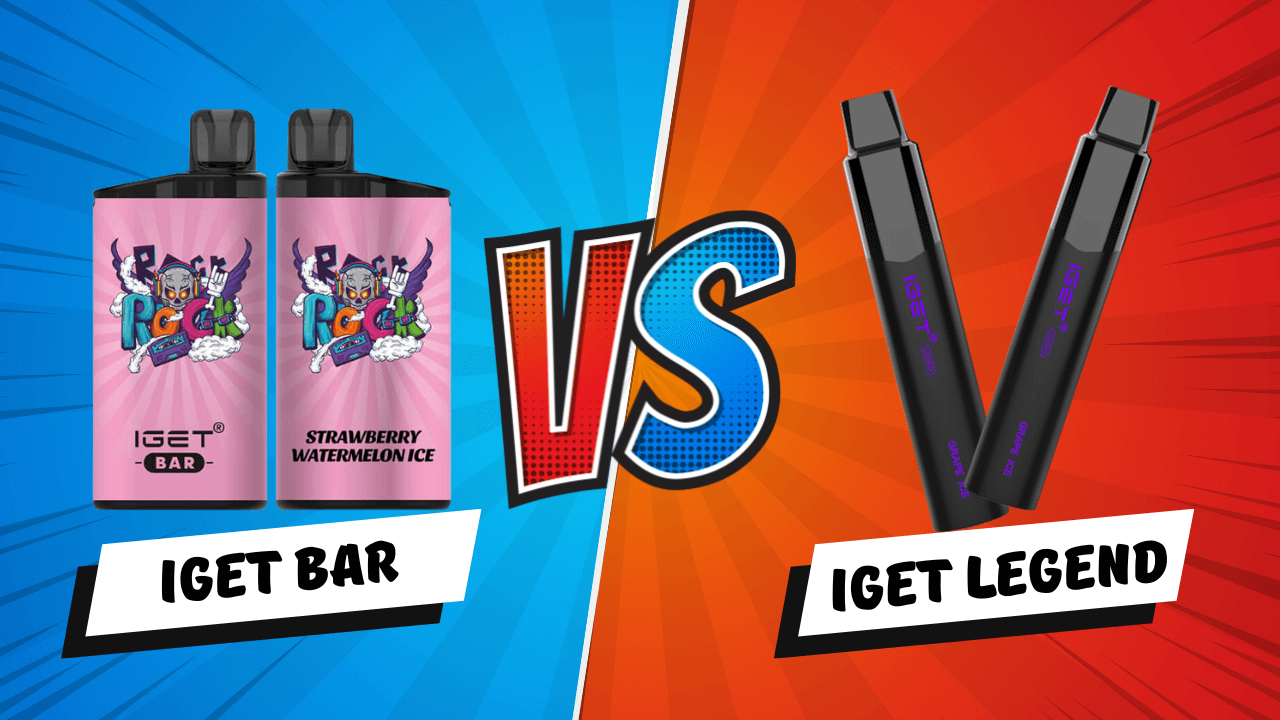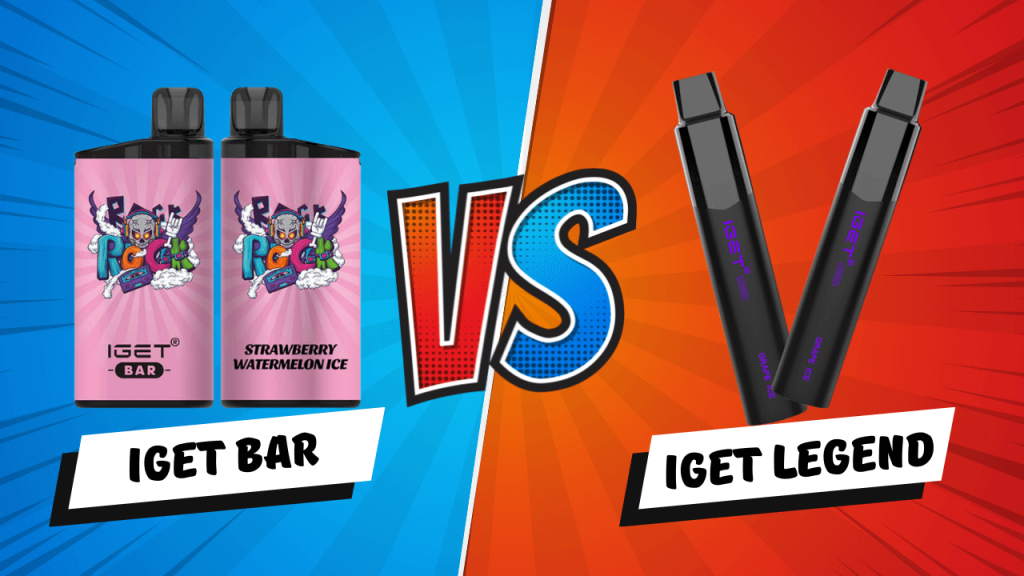 IGET Legend 4000 Disposable Vape
The IGET Legend 4000 is a disposable vape that offers convenience and high performance in one device. With 4,000 puffs, a durable metal body, and an ergonomic mouthpiece, it is perfect for vapers who value simplicity and vapor quality. And its pre-charged design eliminates the need for re-charging, making it a convenient option for Australian e-cigarette users.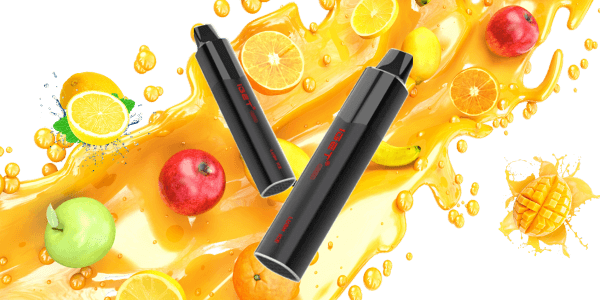 Subscribe now for exclusive offers and updates!
Legend Vape Specifications
Nicotine Content: 5% (50mg/mL)
Puff: 4000 Puffs
E-liquid Capacity: 12ml
Battery Life: 1350mAh
Size: 22 x 22 x 122 mm
Coil: 1.4ohm.
Weight: 55g
Features
Visible E-liquid Window
20 New Flavours
E-Juice Leak-Proofing System
Ergonomic Design
IGET Legend 4000 Review
The IGET Legend 4000 puffs disposable vape is a high-quality device. The device boasts a sleek design with a durable plastic body that features a matte finish with a sandblasted texture. The ergonomic mouthpiece is made of smooth plastic, and the device has a cool touch feel. With a high puff count of 4000+ puffs, this device is made of top-quality materials.
Each IGET Legend device provides over 4000 puffs and offers a variety of fruity and authentic-tasting flavours. The premium design and delicious flavours set the IGET Legend apart from other disposable vapes and make it an attractive option for Australian e-cigarette users.
IGET Bar 3500 Disposable Vape
The IGET Bar disposable electronic cigarette is designed to deliver a superior vaping experience. Made with high-quality materials, it has a unique and elegant design. The soft mouth-to-lung draw is warm, smooth and satisfying. With a long-lasting battery of 1500mAh, each device provides 3500 puffs, which is enough to last for over a week. This makes it an ideal choice for Australian vapers looking for a convenient, long-lasting and satisfying vaping experience.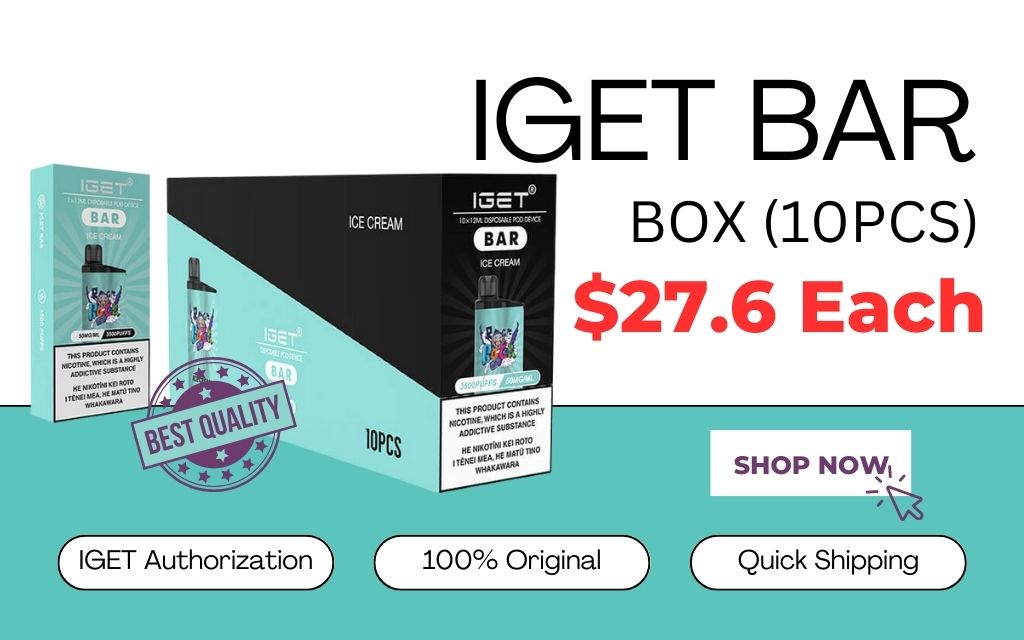 IGET Bar Specifications
Size: 41.2mm x 19.5mm x 94.5mm.
1500mAh battery.
50mg nicotine strength.
Up to 3500 puffs.
Prefilled with 12ml of e-juice.
1.1Ω Mesh Coil.
25 Flavors.
Features
A variety of flavours
Strong fruity flavour
Satisfying throat hit
Portable design
All round comparison between IGET Legend 4000 and IGET Bar 3500
E-Liquid capacity
Both the IGET Legend and IGET Bar disposable vapes offer a generous e-liquid capacity of 12ml, making them suitable for regular vapers. This capacity ensures that you will have enough juice to enjoy your vaping experience without needing refills.
Battery life
The battery life of disposable vapes is an important factor as it affects the overall performance of the device. The IGET Legend is powered by a 1350mAh battery, while the IGET Bar has a larger 1500mAh battery. This means that the IGET Bar should have a slightly longer battery life, providing more usage time before needing to be disposed of. Both devices offer a good battery life for disposable vapes and will provide a satisfying vaping experience.
Number of puffs
Puff count is an important aspect of disposable vape performance. The IGET Legend offers 4000 puffs, while the IGET Bar offers 3500 puffs, with a slight difference between the two. However, the number of puffs per device can vary based on individual usage, as the length of each draw can affect the number of puffs. To make the most out of your disposable vape, it's recommended to take longer and shorter drags, as opposed to just longer drags, which will consume the puff count faster. Both the IGET Legend and IGET Bar provide a good puff count, enough for regular usage.
Materials
The IGET Bar and Legend vape 4000 disposable vapes are both well-built, but they have different material constructions. The IGET Bar has a sleek design with a glossy plastic coating, while the Legend vape has a high-grade plastic body that helps to maintain a high standard of flavour. Keep in mind that as a disposable vape, the materials may not be top-of-the-line, but both devices are structurally sound.
Design and Size
IGET offers two different devices to cater to vapers with varying preferences. The IGET Legend vape is a larger device, providing a longer vaping experience and is ideal for those who prefer bigger devices.
Meanwhile, the IGET Bar is a more compact and portable device, designed for vapers who prefer a more discreet vaping experience. Both devices have distinct designs and sizes, ensuring a comfortable and convenient vaping experience for different types of vapers.
Vaping Experience
IGET Bar and IGET Legend offer distinct vaping experiences to suit different preferences.
The IGET Bar provides a stronger throat hit, especially when first opened, while the IGET Legend delivers a smoother and more comfortable vaping experience. For novice e-cigarette users, the Legend may be more suitable, while experienced users may prefer the Bar.
If you're seeking a refined taste experience, the Legend satisfies, and for those seeking a powerful throat hit, the Bar is the way to go. Trust in IGET to deliver the perfect vape for your needs.
Price
IGET Bar is available in the Australian market for $35-$60.
IGET Legend is available in the Australian market for $35-$65.
When you purchase the IGET Bar, you get 100 puffs for every AUD spent. However, when you opt for the IGET Legend vape, you get 114 puffs per AUD. If you choose the Grape Ice IGET Legend flavour, you'll get even more value at 138 puffs per AUD spent. This makes the IGET Legend a more cost-effective option for Australian consumers.
Flavour differences
Blackberry Ice
Blueberry Raspberry Grape Ice
Grape Ice
Click here to find out more about 👉 IGET Legend flavours review!
Top IGET Bar Flavours
Strawberry Kiwi Ice
Strawberry Watermelon
Blackberry Ice
Performance differences
One key feature of the IGET Legend disposable vape is its visual E-liquid window and leak-proof system. This allows vapers to easily monitor the e-liquid level and prevents dry hits by alerting them when the device is running low, ensuring a smooth and enjoyable vaping experience. This feature also prevents the device from burning dry or producing a burnt taste, making the IGET Legend 4000 a reliable choice for vapers.
When comparing the performance of the IGET Legend 4000 and IGET Bar 3500, both offer a high level of vapor production, making them suitable for vapor tricks. Both devices are draw-activated, which means they are ready to use straight out of the box without any need for filling or refilling. These vapes are easy to use for vapers of all levels, making them an ideal choice for anyone looking for a convenient and high-performing device.
Conclusion: Which is better?
Overall, both the IGET Legend 4000 and IGET Bar 3500 are excellent disposable vape options, each with its own set of strengths. Both devices have the same e-liquid capacity and nicotine strength, and they offer a wide range of flavours. The IGET Legend has a visual E-liquid window and leak-proof system which makes it a little more reliable than the IGET Bar. However, the IGET Bar offers a broader range of flavours providing a little more variety. In the end, either device would be a great choice for a convenient, easy-to-carry and affordable vaping experience.
---
Related articles
👉IGET Legends FAQs And Solutions In 2023
👉IGET Legend Review: Best Flavours In 2023